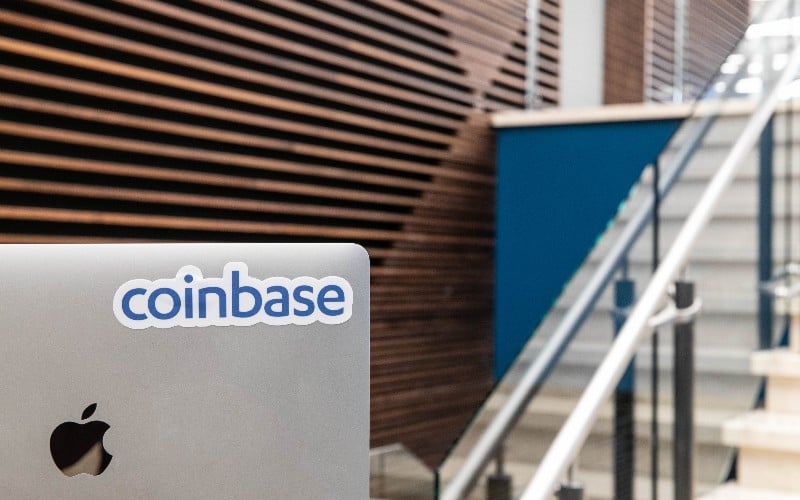 CryptocurrencyFinTechInvestmentMediaTechSportTech
There are fears that Coinbase could go bankrupt amid the collapsing cryptocurrency market – with some coins down 30% or more in the last 24 hours – and take users' holdings with it.
The crypto exchange has made its first loss as a public company, with Q1 earnings a negative $430 million. Revenue also dropped 27% from the same period in 2021 to $1.17 billion, with monthly transacting users dropping to 9.2m from 11.4m in Q4.
The company's share price, which stood at almost $350 in November, has slumped to an all-time low of $53 at the time of writing (7am UK), down massively from $130 on 4th May.
Some retail users of the crypto exchange were left panicking by a passage included deep inside the earnings report: "In the event of bankruptcy, crypto assets held by the exchange could be considered property of the bankruptcy proceedings, and customers could be treated as general unsecured creditors. An unsecured creditor would be one of the last to be paid in any bankruptcy and last in line for claims."
In short: if Coinbase goes under, your holdings are very much at risk.
CEO Brian Armstrong attempted to reassure customers, tweeting that the firm was at 'no risk of bankruptcy' and funds were 'safe… just as they have always been'. 
He also apologised for failing to communicate proactively over the addition of the wording, adding: "My deepest apologies, and a good learning moment for us as we make future changes."
Armstrong further explained: "We believe our Prime and Custody customers have strong legal protections in their terms of service that protects their assets, even in a black swan event like this.
"For our retail customers, we're taking further steps to update our user terms such that we offer the same protections to those customers in a black swan event. We should have had these in place previously, so let me apologize for that.
"This disclosure makes sense in that these legal protections have not been tested in court for crypto assets specifically, and it is possible, however unlikely, that a court would decide to consider customer assets as part of the company in bankruptcy proceedings… even if it harmed consumers."
Rap stars CRO and Bausa invest in 'Shopify for NFTs'
Berlin-based technology startup FUEL, described as the 'Shopify for NFTs', has secured investment from German rappers CRO and Bausa as well as the latter's record label Two Sides.
The news follows FUEL's €1.5 million pre-seed financing round in March 2022 to develop its platform, which enables musicians and creators to build their own custom-branded NFT shop for their collection without any technical knowledge.
With the new investors, FUEL has not only secured further funds, but direct access to the music and entertainment scene. CRO has four No.1 singles to his name and is currently listened to by nearly five million users on Spotify per month. 
Two Sides, founded in 2017, is run by Lucas Teuchner alongside rapper Bausa, who also has a No.1 behind him. Some of Germany's most successful musicians, including Apache207, Loredana, Zuna, Azet and Miksu/Macloud, are currently signed to Bausa's and Teuchner's label. 
Well-known investors already involved include Gumtree co-founder Michael Pennington, Indeed founder Paul Forster and Bitstamp CTO David Osojnik, as well as the US and English venture capital funds Fintech Collective, Seedcamp and Notion Capital.
FUEL co-founders Csongor Barabasi and Thanh Binh Tran said: "NFTs are revolutionising the music, arts and entertainment industries, delivering real added value and strengthening the connection between artists and their fans.
"In the music industry, for example, this could be presale rights for concert tickets or backstage access."
CRO said: "I've been looking at the NFT sector for a while and I'm convinced of its potential, not only for the music industry, but also for all other areas of the creator economy. With FUEL, I have now found not only a team but also a model that has excited me so much that I also want to be on board as an investor."
Label boss Bausa adds: "It is important that the music industry evolves. With NFTs and FUEL's model, we have the chance to make that happen."
Cryptocurrency shorts
Chelsea Football Club has signed a £20m deal with digital asset platform WhaleFin to sponsor its shirt sleeves. The deal was agreed before Russia's invasion of Ukraine and, therefore, Roman Abramovich's exit from the club.
London-based asset manager Fasanara Capital has launched a $350m fund dedicated to crypto.
The Central Bank of Chile has delayed its plans for a central bank digital currency (CBDC) as it wishes to perform a deeper analysis of the benefits and risks of issuing the digital peso.
Germany has become the first country to issue guidance on crypto income tax, with staked or lent cryptocurrencies able to be sold tax-free if held for over a year.
African crypto exchange platform MARA has raised $23m seed funding from the likes of Coinbase Ventures, Alameda Research and Distributed Global to increase the number of Africans who can participate in the crypto economy. 
Lighthouse Labs has raised $7m seed funding – co-led by Accel, BlockTower and Animoca Brands – to build an 'open metaverse navigation engine' for the Web3 economy.
Crypto prices
The overall market cap of the more than 19,400 coins is at $1.15 trillion, an 18.5% decrease in the last 24 hours.
Market leader Bitcoin – the original cryptocurrency created by the mysterious Satoshi Nakamoto – fell 15% in the last 24 hours to around $26,850 at the time of writing (7am UK). BTC is down 32% in a week.
Ethereum, the second most valuable crypto coin – created as a decentralised network for smart contracts on the blockchain – shed 23% to around $1,830. ETH is 38% down over the course of a week.
Binance Coin is a cryptocurrency created by popular crypto exchange Binance to assist its aim in becoming the infrastructure services provider for the entire blockchain ecosystem. Its BNB token lost 27% to $229, leaving it 43% down over seven days.
The XRP token of Ripple, a payment settlement asset exchange and remittance system, acts as a bridge for transfers between other currencies. XRP dropped 31% to 36 cents, which leaves it 45% down over seven days.
Solana is a blockchain built to make decentralised finance accessible on a larger scale – and capable of processing 50,000 transactions per second. Its SOL token dumped 37% to $42 and is down 55% compared with a week ago.
Cardano is an open source network facilitating dApps which considers itself to be an updated version of Ethereum. Its ADA token, designed to allow owners to participate in the operation of the network, dropped 34% to 41c. It is 52% down over the course of a week.
Meme coin DOGE was created as a satire on the hype surrounding cryptocurrencies but is now a major player in the space. DOGE fell 33% to 7c, leaving it 46% down in a week.
Polkadot was founded by the Swiss-based Web3 Foundation as an open-source project to develop a decentralised web. Its DOT token, which aims to securely connect blockchains, fell 31% to below $8 and is 53% lower than its price a week ago.
Avalanche is a lightning-quick verifiable platform for institutions, enterprises and governments. Its AVAX token dropped 37% to $26 and is 61% down in a week. It is now 15th in the market cap valuation table, below TRON (TRX).
Terra (LUNA), described as a programmable money for the internet and as high as $117 little more than a month ago, has plummeted to just 32c. 
To see how the valuations of the main coins have changed in recent times – and for round-ups of recent cryptocurrency news developments – click here.
For valuations of the top 100 coins by market cap in US dollars, plus 24-hour price change, see below.