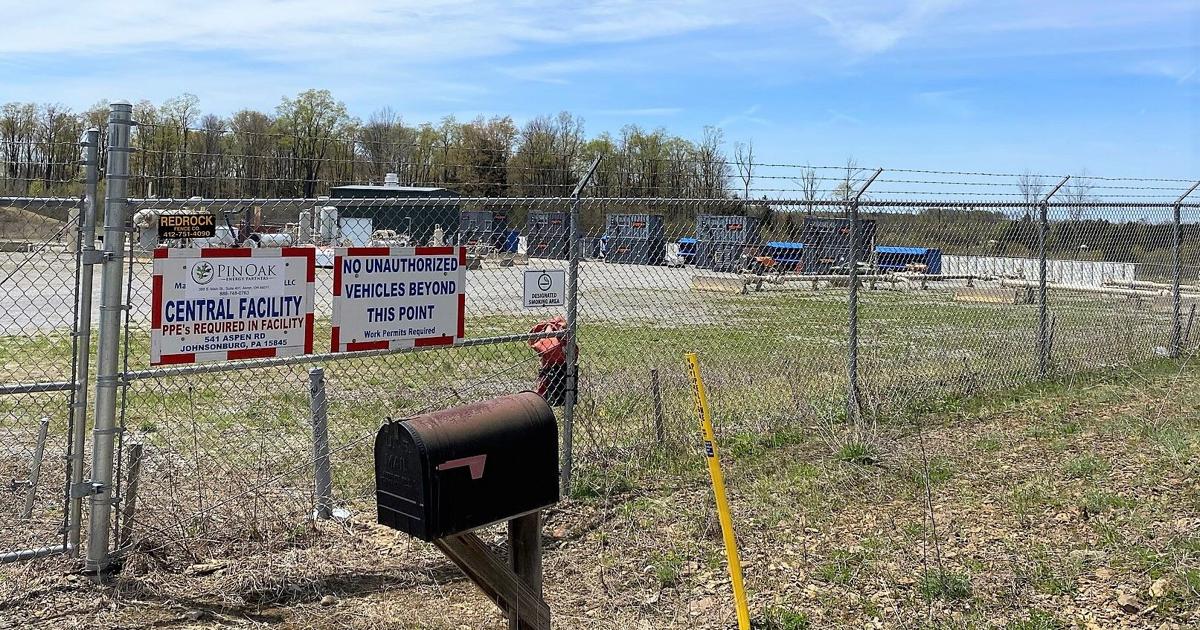 RIDGWAY–A rusted, lonely mailbox stands alone at the end of a short road leading to the Bitcoin mining site along Long Level Road in Ridgway. Plopped down in the middle of the Allegheny National Forest covers most of Ridgway Township, the road passes by numerous natural gas extraction wells. Large pipes bring the gas to the Pin Oak Central Facility to be turned into electricity to power the banks of computers and cooling towers that comprise the BitCoin "Mine." The Natural Gas extraction wells have been in place for many years with few to no complaints, but since Pin Oak
began a Bitcoin mine at the site late last year, the complaints and anger have grown, finally spilling over to a tense Ridgway Township Supervisors meeting on Tuesday evening.
"They (Pin Oak) have lied since the beginning," said nearby neighbor Joe Matonik, "Why are they still allowed to operate when their original permit said they were putting in gas compression equipment, which is not what is on the site currently?" "If this were me putting up a building on my property, you would be after me every day to get the proper permitting; why not them?"
"The person who owns the land does not live anywhere close to here and is not bothered by the noise," said Michelle McMinn, another neighbor "these are no gas pumping stations there but clearly Bitcoin mining computer banks and cooling towers along with an electric generator."
Pennsylvania State Police Trooper Ray Millard, another neighbor of the Bitcoin mine, complained of "not sleeping well," which was echoed by the dozen residents who attended the Supervisors' meeting on Tuesday.
"Lack of sleep is dangerous, " said Amanda Balon of Big Maple Farm Natural Therapies, "and the noise directly impacts my livestock." "My meat chickens are about two months behind on their weight gains before butchering, and my egg production has been cut in half because chickens need below a 45-decibel noise level at night to rest, and we regularly clock 65-75 decibels overnight." "I have had a cold for over a month that I can't shake and am constantly exhausted because of the lack of sleep."
Another casualty of the Bitcoin mine is the Therapy Horses at Big Maple Farm, which are used for therapeutic riding lessons but have become jittery and skittish because of the constant noise from the mine. Big Maple Farms has launched a petition which has garnered 85 signatures calling for the shutdown of the mine until proper sound abatement equipment is in place.
"I had to get a special permit from Ridgway Township to allow for Therapeutic Riding at my own farm," said Balon. "How can Pin Oak continue to operate without ever disclosing what they are doing at the site?"
The complaints from neighbors went on for over a half-hour, each describing their problems with the noise and how it has impacted their daily lives. Frustration has now turned into anger, and several times voices were raised uncharacteristically for Ridgway.
The Supervisors expressed their displeasure with the current situation as well and promised to reach out to both Pin Oak and their solicitor for a path forward, noting that Pin Oak has said they are working to put in place sound mitigation equipment and eventually a building to house the site. These responses did not sit well with several members of the public who came to the meeting, and they are considering their own legal actions against Pin Oak. The Ridgway Record will continue to report on this ongoing story as it develops.