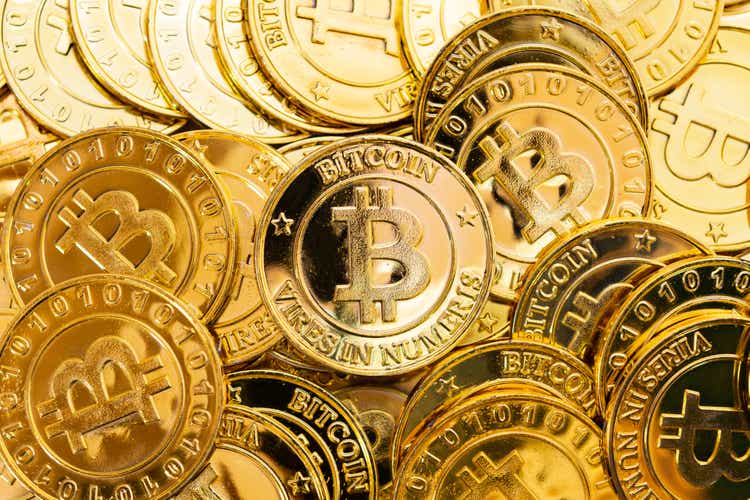 Bitcoin (BTC-USD), ethereum (ETH-USD) and other major cryptocurrencies are extending their huge rallies seen after Federal Reserve chair Jerome Powell hinted Wednesday that the pace of rate hikes could be slower as economic growth cools down.
As of around 12:45 p.m. ET, bitcoin (BTC-USD) is jumping 10.5% to $23.8K after earlier hitting a session high of $23.94K. And ether (ETH-USD) is soaring 16.1% to $1.72K in early Thursday afternoon trading after reaching an intraday high of $1.74K.
The extended gains come after real GDP in the U.S. entered negative territory for the second straight time in Q2, contracting 0.9% vs. -1.6% in the first quarter. The back-to-back negative readings are commonly referenced as a "technical recession."
While recessions are not a desirable outcome, bad news is good news in this case as speculators' expectations of future interest-rate increases ease given looming macro woes. Nevertheless, Powell emphasized during his press conference Wednesday that "I do not think the U.S. is currently in a recession," as the economy is still adding jobs.
Specifically, markets are pricing in a 74.0% chance that the Fed will lift its target rate by 50 basis points at its Sept. 20-21 meeting, according to CME's FedWatch tool. That would be a slower move than the Fed's most recent hike of 75 bps to bring down inflation.
As for the bullish price action in cryptos, "you could argue this show of optimism reflects the view among investors that a more aggressive plan of action from the Federal Reserve was expected, particularly given the amount of political pressure that is building on governments to tackle inflation (not that the two should be linked!)," Ben Small, an analyst at digital asset broker GlobalBlock wrote in a note.
More cryptos: ripple (XRP-USD) +9%, cardano (ADA-USD) +8.6%, solana (SOL-USD) +13.3%, dogecoin (DOGE-USD) +8.5%, polkadot (DOT-USD) +15%, polygon (MATIC-USD) +14.5% and uniswap (UNI-USD) +35.2%.
Crypto-related stocks such as Galaxy Digital (OTCPK:BRPHF) +7.9%, Marathon Digital (MARA) +8.2%, Core Scientific (CORZ) +7%, MicroStrategy (MSTR) +3.4% and Coinbase Global (COIN) +4.7% are climbing too, as all three major U.S. stock indices extend gains.
Earlier this week, (July 27) bitcoin jumped in tandem with equities after Fed rate hike, Powell's remarks.